Favre's Final Farewell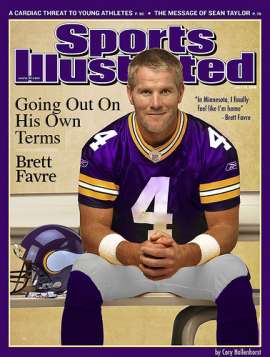 As much as I am fan, I'm as sick of Favre's never-ending retirement as the next non-Wrangler-jeans-wearing guy. He doesn't realize the number of people asking for one more song keeps dwindling.

You may want to prepare yourself for another eight months of hearing about Brett Favre non-stop. The only question now is, what impact will this have on John Madden's retirement plans?

On April 28, 2009 the sun rose in the east, it set in the west and a Brett Favre comeback rumor began circulating.

The latest from the rumor mill is that Vikings coach Brad Childress and Brett Favre will meet later this week at an "undisclosed location" and discuss the possibility of Favre joining the Minnesota Vikings. It has been reported that there is already a "mutual understanding" that Favre would make up his mind about playing in time to participate fully in mini-camps and training camp.

In defending Favre's decision to stage a second comeback I have to point out that most of Brett's statistics were very respectable last year despite an injury to his throwing arm, which got worse later in the season. He threw for over 3000 yards. He improved the Jets from 4-12 in '07 to 9-7 in 2008 and the Jets narrowly missed the playoffs-which no sane person would blame solely on him.

The fact of the matter is, Favre doesn't 'suck' nor is he too old to play. He improves any team he is on and could improve the Vikings as well. Furthermore, he has every right in the world to keep playing as long as he has the desires.

But in the fairness to the Jets and their fans I think it's time for Brett Favre to cease with the comebacks and retire for good. Last February he told the Jets he was done and that he meant it. They actually should thank him for retiring because when he did as it most likely led them to Mark Sanchez, a 22-year-old with a bright future instead of a broken-down, nearly 39-year-old carpetbagger interested only in sticking it to the Packers, especially Packers GM Ted Thompson.

It appears that Favre didn't retire from football in February as much as he just didn't want any part of playing for the Jets again.

Brett Favre is like a movie star from the early 80's who's trying to hang around the A-List for a shot at a reality show. Brett you are a shell of your former self. Stay retired and let the league move on

Brett.... come on... take your meds, get a puppy and get a new fishing pole.
This article as been emailed to the person you requested.